TUSCANA MOTOR LODGE
Tuscana Motor Lodge offers superbly located city accommodation just a 15-minute drive from Christchurch International Airport and a short walk from the Christchurch CBD and all our beautiful city has to offer. Visit the amazing Botanical Gardens, Arts Centre or Museum before walking down Worcester Boulevard past the Art Gallery to see Christ Church Cathedral. Enjoy a morning walk or run through Hagley Park and enjoy brunch at a café along Victoria Street on the way home. Southern Cross Private Hospital is just across the road, while there are several cafés and restaurants also within a 5 to 10-minute walk.
Rooms

Tuscana Motor Lodge offers discerning travellers superior quality self-catering, bed and breakfast, motel and apartment accommodation in Christchurch City.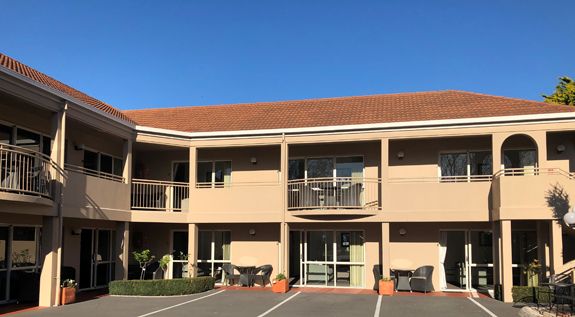 About Us
Tuscana Motor Lodge is a superior motel offering quality self-contained accommodation in the heart of Christchurch City, New Zealand. We are really proud of what we provide and the positive feedback we invariably get. Whether you are a corporate traveller or visitor to Christchurch, family or sporting group, we believe you'll be pleased with what we have to offer.
So why not treat yourself to our quality Mediterranean-style motel accommodation at prices you can afford! Book with us direct for the best rates, either online at info@tuscana.co.nz or call us on our freephone no. 0508 887 226.
We look forward to having the opportunity of delivering you the Total Tuscana Experience!
Your Hosts,
Grant and Vivienne McWhirter
Testimonials
Review
Reviewed 15 Jul 2020
The cleanest motel I have stayed in, in over 43 years of travelling the world.

Paul C, Melbourne
Review
Reviewed 15 Jul 2020
Fabulous service and rooms are immaculate, thanks.

Claire and Steve, England
Review
Reviewed 15 Jul 2020
Wonderful stay, beautiful motel, everything spotless. Never had such wonderful hospitality in any other motel. Thank you.

J.H Mosgiel
Review
Reviewed 15 Jul 2020
The best accommodation in both the North and South Islands. Close to the best ever. Excellent service.

John and Barbara W.
Review
Reviewed 15 Jul 2020
One of the best motels we have stayed in, in over 25 years.

Heather and John
Review
Reviewed 15 Jul 2020
Fantastic rooms, great hosts, beautiful city... we will return.

Callows from UK
Review
Reviewed 15 Jul 2020
Great, handy to the city, lovely rooms.

Peter B and family